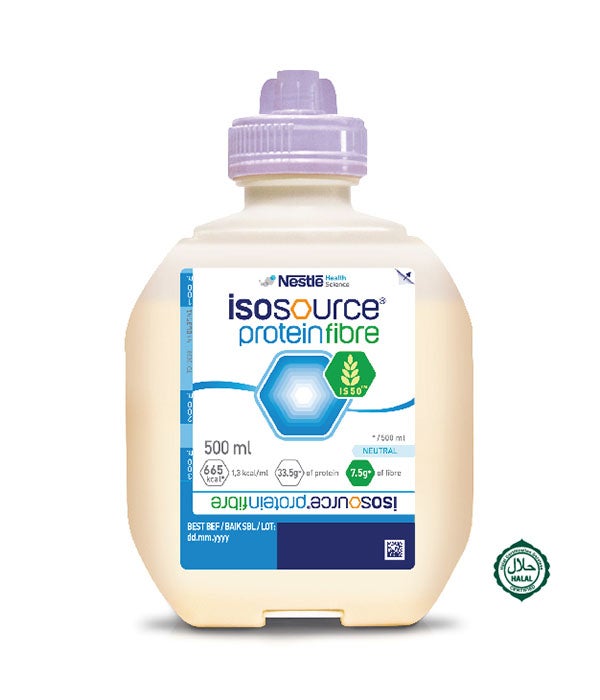 ISOSOURCE® PROTEN FIBRE IS SPECIFICALLY FORMULATED FOR THE DIETARY MANAGEMENT OF MALNUTRITION AND OTHER MEDICAL CONDITIONS WITH INCREASED NUTRITIONAL NEEDS.
ISOSOURCE ® Protein Fibre is a high protein liquid formula, enriched with soluble and insoluble fibre for optimal gastrointestinal tolerance. Suitable for tube feed or oral use and provides 1.3 kcal/ml​
*Average values
High energy density
High in protein (20% TEI)​
20% MCT​
Unique fibre blend (50% soluble fibre: 50% insoluble fibre)​
Multisource fibre (Pea fibre,Macacia gum, inulin, FOS)​
Long term and short term tube feeding​
Elevated energy and protein needs​
Abnormal bowel function
Inadequate oral intake​
Ingredients: Water, maltodextrin, milk proteins, vegetable oils (rapeseed, sun- flower), fibres (pea fibre, acacia gum, fructo-oligosaccharides, inulin), medium chain triglycerides, minerals (trisodium citrate, tripotassium phosphate, potassium chloride, potassium citrate, magnesium citrate, tricalcium phosphate, sodium chloride, ferrous lactate, zinc sulphate, copper gluconate, manganese sulphate, sodium fluoride, sodium selenite, chromium chloride, sodium molybdate, potassium iodide), emulsifiers (E472c, E471), fish oil, stabilisers (E460, E466, carrageenan), choline bitartrate, vitamins (C, E, niacin, pantothenic acid, B6, B1, A, B2, beta-carotene, folic acid, D, B12, K, biotin), antioxidant (E304).
100 ml
500 ml

Tenaga/Energy

kJ/kcal

558/133

2790/665

Lemak / Fat (30%TEI *),

g

4.4

22

yang terdiri daripada / of which:

Asid Lemak Tepu / Saturated Fatty Acids

g

1.4

7.0

MCT / Medium Chain Triglycerides

g

0.88

4.4

Asid Lemak Monotidaktepu / Monounsaturated Fatty Acids

g

2.0

10.0

Asid Lemak Politidaktepu / Polyunsaturated Fatty Acids

g

1.0

5.0

- Omega-3

mg

175

875

Asid Lemak Trans / Trans Fatty Acid

g

0

0

Karbohidrat / Carbohydrate (48% TEI*)

g

16

80

yang terdiri daripada / of which

Jumlah Gula / Total Sugars

g

1.5

7.5

Laktosa/lactose

g

< 0.05

Serat Diet / Dietary Fibre (2% TEI*)

g

1.5

7.5

yang terdiri daripada / of which

- Terlarut / Soluble

g

0.75

3.75

- Tidak Larut / Soluble

g

0.75

3.75

Protein (20% TEI*)

g

6.7

33.5

Garam / Salt (= Na (g) x 2.5)

g

0.30

1.5

Mineral / Minerals

100 ml

500 ml

Natrium/ Sodium

mg

120

600

Kalium/ Potassium

mg

120

600

Klorida/ Chloride

mg

75

375

Kalsium/ Calcium

mg

90

450

Fosforus/ Phosphorus

mg

75

375

Magnesium

mg

14

70

Zat Besi/ Iron

mg

1.1

5.5

Zink/ Zinc

mg

1.1

5.5

Kuprum / Copper

mg

0.11

0.6

Mangan/ Manganese

mg

0.19

1.0

Fluorida/ Fluoride

mg

0.10

0.5

Selenium

µg

5.3

26.5

Kromium/ Chromium

µg

7

35

Molibdenum/ Molybdenum

µg

8

40

Iodin/ Iodine

µg

12

60

Vitamin/ Vitamins

100 mL

500 mL

A

µg RE

122

610

D

µg

1.6

8.0

E

mg

1.7

8.5

K

µg

7.9

39.5

C

mg

14

70

Tiamina/ Thiamin

mg

0.19

0.95

Riboflavin

mg

0.23

1.15

Niasin/ Niacin

mg/ mg NE

1.4/2.5

7.0/12.5

B6

mg

0.25

1.25

Asid Folik/ Folic Acid

µg

32

160

B12

µg

0.52

2.6

Biotin

µg

5.1

25

Asid Pantotenik/ Pantothenic Acid (B5)

mg

0.75

3.75

Kolina/Choline

mg

37

185

Water content: 79g/ 100mL

Osmolarity: 311 m0sm/L
*Total Energy Intake
---