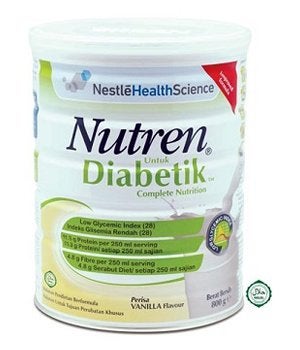 NUTREN UNTUK DIABETIK IS SPECIALLY FORMULATED FOR INDIVIDUALS WITH IMPAIRED GLUCOSE TOLERANCE
NUTREN® untuk Diabetik is a nutritionally balanced diet specially formulated for the dietary management of individuals with impaired glucose tolerance. It can be used for both oral and tube feeding.
Complete and balanced nutrition
Each serving delivers 11.3g of protein, 4.8g of fibre and 253 kcal energy
Low glycemic index of 28
Low osmolality of 250 mOsm/kg water
Rich in fibre (100% soluble)
Contains 50% high quality whey protein
High MUFA (monosaturated fat); low SFA (saturated fatty acid) and trans fat
Lactose, sucrose and fructose free
Vanilla flavour
Suitable for oral or tube feeding patients
Nutren untuk Diabetik is suitable for:
Dietary management of diabetes mellitus type I and II
Stress induced hyperglycemia
Meal replacement
Impaired glucose tolerance
Tapioca Dextrin, Vegetable Oils (High Oleic Sunflower, Low Erucic Acid Rapeseed, Sunflower), Whey protein, Milk Protein (Potassium Caseinate from Cow's milk), Fibres (Guar Gum, Acacia gum, Fructo-oligosaccharides, Inulin), Isomaltulose, Minerals (Sodium Phosphate, Sodium Citrate, Potassium Chloride, Calcium Carbonate, Calcium Chloride, Magnesium Oxide, Ferrous Sulfate, Zinc Sulfate, Manganese Sulfate, Copper Sulfate, Chromium Chloride, Potassium Iodide, Sodium Molybdate, Sodium Selenite), Maltodextrin, Emulsifier (Soy Lecithin E322), Choline Bitartrate, Inositol, Acidity Regulator (Citric Acid E330), Vitamins (C, Nicotinamide, B5, E, B6, B1, B2, A, Folic acid, K1, Biotin, D3, B12), Artificial and Natural Flavourings, Sweetener (Potassium Acesulfame E950 0.0640%), L-carnitine, Taurine.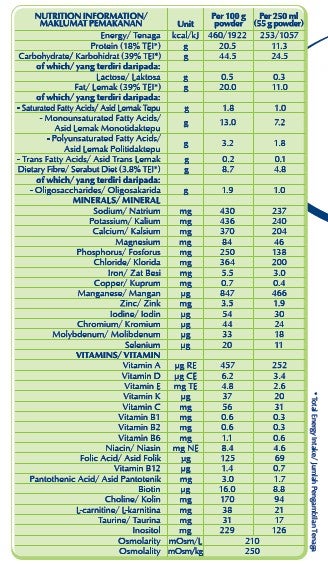 ---